Annals of Electrical and Electronic Engineering
The international journal published by IASE
Warning: Recently a fraudulent website is copying-pasting this journal contents. It is a fake website with the following address "htmoonfomo.com"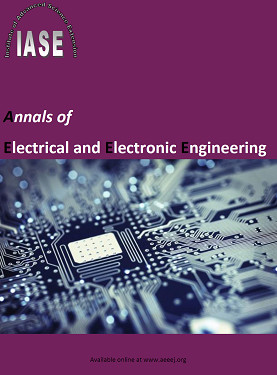 ISSN: 2616-9053 (Print) 2616-9061 (Online)
DOI prefix: 10.21833
Abbreviated key-title:
Ann. electr. electron. eng.
Other variant title: AEEE
Subject: UDC: 621.3
Creation: 2018
Frequency: Monthly
Type of resource: Periodical
Language: English
Country: Taiwan, Province of China
The Annals of Electrical and Electronic Engineering (hereinafter called AEEE) is a peer reviewed, open access, and international journal in electrical engineering. AEEE is regularly published and issued monthly by Institute of Advanced Science Extension (IASE). The objective is to integrate core areas of electrical and electronic engineering which are power, electronics, control, and communication and related disciplines in a place to have a great potential for improving electrical engineering literature. Besides, AEEE editors are trying continuously to fuse and facilitate communications between research and industry. But the main preference and indeed AEEE road map is using the most powerful hierarchy of science developing i.e., synergy among Numerical Analysis, Information Technology, and Optimization in the electrical and electronic engineering. All submitted manuscripts are subjected to anonymous review process by at least two independent expert reviewers prior to publishing on AEEE.
For digital preservation purposes, AEEE is archived in Portico, which provides permanent archiving for electronic scholarly journals. It operates a fully open access publishing model which allows open global access to its published content.
AEEE Journal is sponsored by
Institute of Advanced Science Extension (IASE)
https://www.science-gate.com